Supercomputer
SGI UV 100
Shirokane2 Shared-Memory Server
As part of Shirokane2, HGC unveiled its newest 2TB Shared memory supercomputer on January 1st, 2012. Its performance is higher than the former SGI Altix 4700 system on various application workloads. The system is powered by the Intel Xeon E7 family, 8837 processors and features SGI NUMALink 5 Interconnect. Together with the full 2 TB of memory access support, users can explore a brand-new set of approaches to the computing intensive problems.
Obtaining SGI UV 100 Computer Account
For new accounts, please fill out the request forms below and return thm to the Supercomputing Services. Please note: if you had used the Altix 4700 system in the past, you should be able to log on to the new UV 100 system. There's no need to submit the forms.
| | |
| --- | --- |
| Application Form for Use of the HGC Supercomputer System | |
Server Specifications
| System configuration | Device name | CPU | Memory |
| --- | --- | --- | --- |
| Shared-memory server | SGI UV 100 | Intel Xeon E7 8837 2.66GHz (8 cores) x 16 | 2 TB |
Operational Period and Pictures
Operational Period
January 2012 - December 2014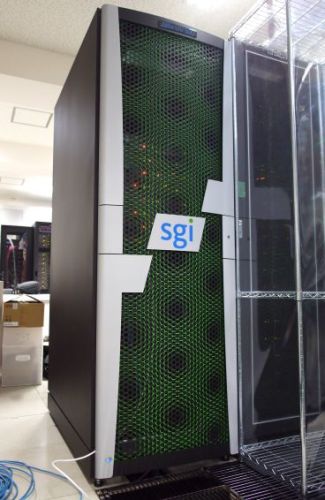 Top of Page