Supercomputer
Fee for SHIROKANE
Below is the usage fee for supercomputer system SHIROKANE.
SHIROKANE Fee List for Academic Organizations
The fee list of SHIROKANE for academic users (PDF)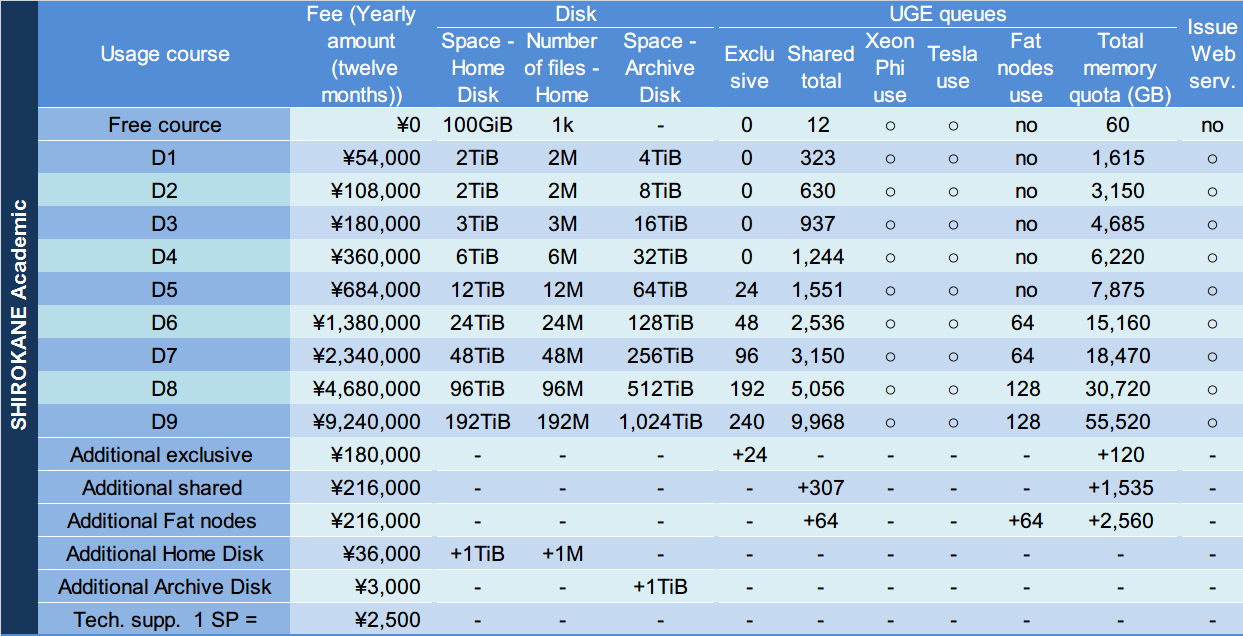 The queue and the number of slots of Univa Grid Engine which can be used (academic users)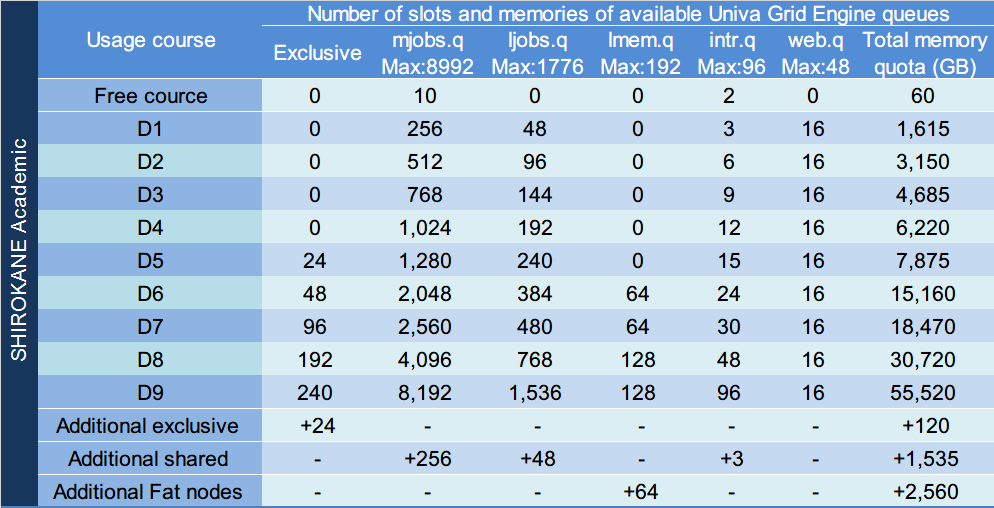 Shirokane3 Fee List for Civilian Agencies
The fee list of SHIROKANE for private company users (PDF)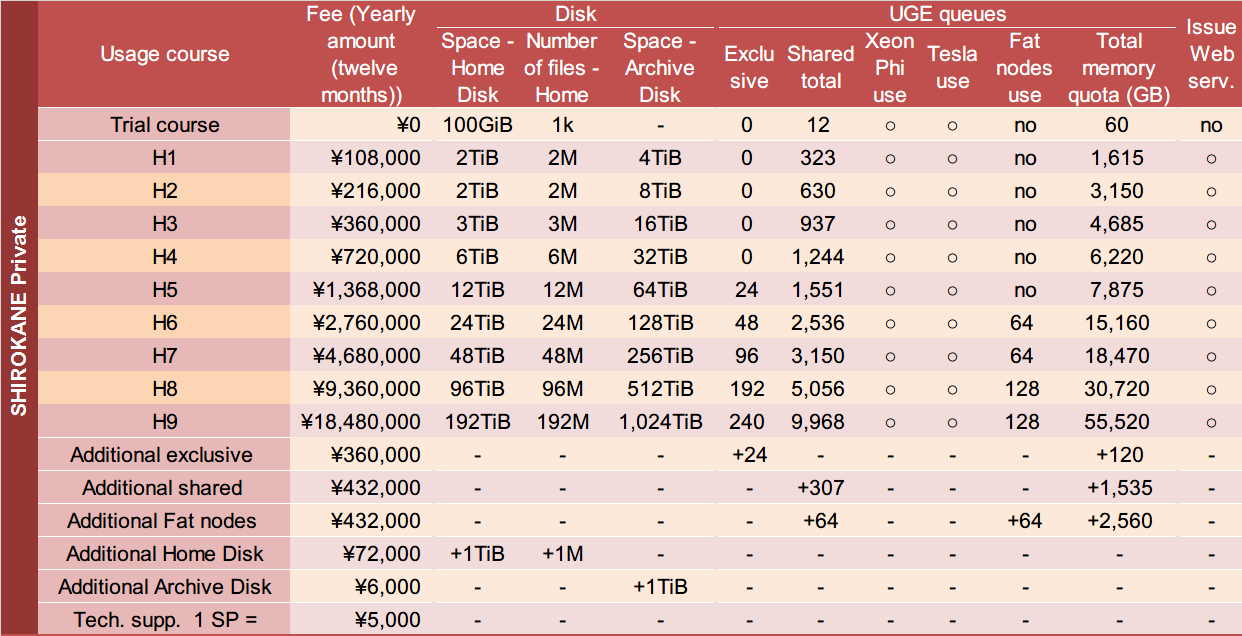 The queue and the number of slots of Univa Grid Engine which can be used (private company users)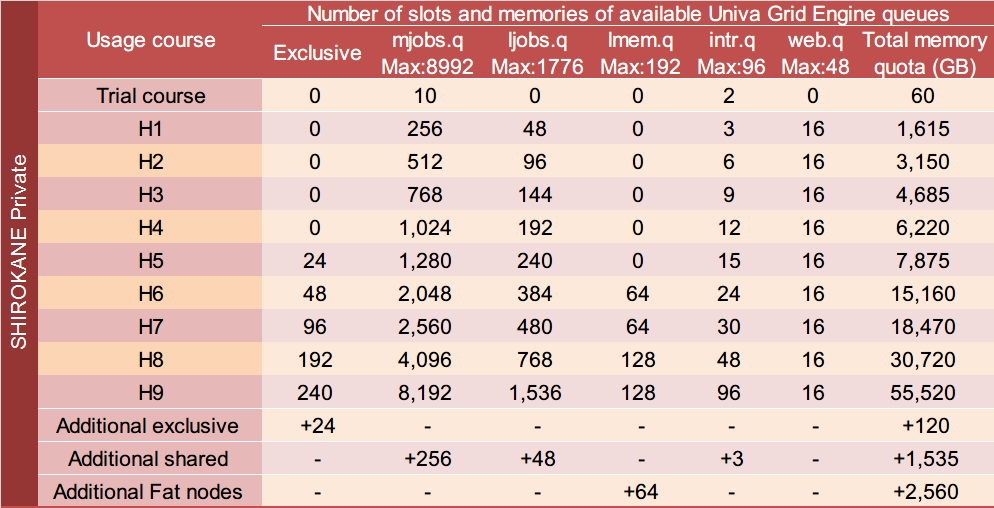 There are various usage plans ranging from a free usage plan to a large-scale occupation usage plan.

Minute addition of resources is possible.

Application details can be changed monthly.

Corporate bodies can register as users.

Service fees for those belonging to academic research institutes such as universities can be paid out of scientific research funds, and can be paid in a lump sum at specific times of the year, such as the end of the fiscal year.

Fees can also be paid as a lump sum at the beginning of the usage plan instead of as monthly payments.

A review requires five business days (excluding weekends, holidays, and the period from December 29 to January 3).

Regulations on Use and the fee charts are reviewed annually.

If the user wishes to execute more than 128 jobs concurrently, the user needs to acquire the HGC Supercomputer License (Online Exam).
To those who use Shirokane 3 before March 2017
Changes related to Shirokane 4 expansion
From April, 2017, we began operation of Supercomputer System SHIROKANE which added Shirokane4 to Shirokane3.
Additional parts by adding Shirokane4 are as follows. Shirokane4 will be operated together with Shirokane3.
Add 18 PBytes Home Disk (3 file systems)
Add 140 compute nodes (145 TFLOPS)
Increase cache area of archive disk by 3 PBytes
SHIROKANE changed the billing amount of Home Disk and increased the Home Disk of the course to be used. The details are as follows.There is no change in the fee of the use course.
Fee of additional Home Disk is change.
(It is a charge of 1 TiB unit.)
Until March 2017
From April 2017
yearly amount
monthly amount
yearly amount
monthly amount
Academic Organizations
¥ 60,000
¥ 5,000
¥ 36,000
¥ 3,000
Civilian Agencies
¥ 120,000
¥ 10,000
¥ 72,000
¥ 6,000
The name of the course has changed. Space Home Disks increases.
Shirokane3 until March 2017
SHIROKANE from April 2017
Course Name
Home Disk
Course Name
Home Disk
Space
Number of files
Space
Number of files
Free course
Trial course
1 GiB
1,000
Free course
Trial course
100 GiB
1,000
C1
G1
1 TiB
1 M
D1
H1
2 TiB
2 M
C2
G2
1 TiB
1 M
D2
H2
2 TiB
2 M
C3
G3
2 TiB
2 M
D3
H3
3 TiB
3 M
C4
G4
4 TiB
4 M
D4
H4
6 TiB
6 M
C5
G5
8 TiB
8 M
D5
H5
12 TiB
12 M
C6
G6
16 TiB
16 M
D6
H6
24 TiB
24 M
C7
G7
32 TiB
32 M
D7
H7
48 TiB
48 M
C8
G8
64 TiB
64 M
D8
H8
96 TiB
96 M
C9
G9
128 TiB
128 M
D9
H9
192 TiB
192 M
Top of Page