Supercomputer
General Structure
The supercomputer system consists of a large number of nodes.
The Sun Blade X6250 and Sun Fire X4440 are distributed-memory servers. In this system, a large number of nodes equipped with multi-core CPUs are connected by a high-speed data communication network. High-speed computing is possible by executing multiple processes simultaneously. Moreover, a load balancer is installed to ensure efficient use of the available computer resources. The SGI Altix 4700 is a shared-memory server, meaning that it can smoothly execute computations that require enormous memory space. Furthermore, a high-speed large-capacity disk array system is used to store large amounts of data, and a data backup server protects important data from loss.
These high-end computer resources enable us to respond to the increasing demand for computing power in the field of genome research.
Performance
Computer
Rpeak
(Gflops)
CPU
OS
Procs
Memory
Disk
Sun Blade X6250 x 768
75,494
Intel Quad Co re Xeon
E5450(3.0GHz)
Linux
6,144
32GByte(pernode)
1PB
Sun Fire X4440 x 12
AMD Quad Core Opteron
8356 (2.3GHz)
Linux
192
128GByte(pernode)
Supercomputer system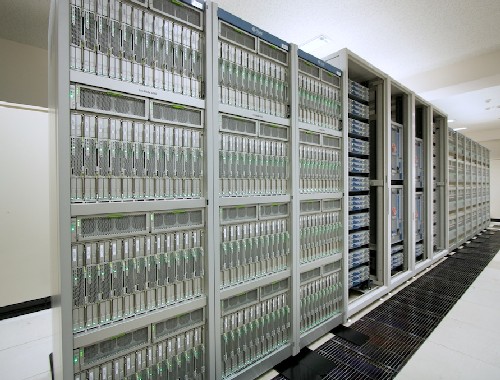 Top of Page